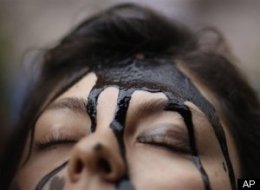 "That's not wrong. Those are the rules of the game," he said. "It's the survival of a company, the survival of a crucial industry is at stake in a vital market area. This is serious business."
It IS wrong, seriously wrong to withhold data that could be of benefit to people who have been adversely affected by the spill. It should not be a surprise that there are scientists who do not want to participate in the obfuscation of crucial facts. Fast track the data.
Regards,
Michael L. Love Ph.D
Department of Biophysics and Biophysical Chemistry
School of Medicine
Johns Hopkins University
725 N. Wolfe Street
Room 608B WBSB
Baltimore MD 21205-2185
Interoffice Mail: 608B WBSB, SoM
Shipping Dock: 1915 E. Madison St.
office: 410-614-2267
lab: 410-614-3179
fax: 410-502-6910
cell: 443-824-3451
http://www.gnu-darwin.org/
Read the Article at HuffingtonPost